Shopify Premium for Zendesk
Enhanced Zendesk eCommerce for Shopify by agnoStack
In today's fast-paced digital world, eCommerce has become an integral part of business, and providing excellent customer service is crucial to retain customers. With the rise of eCommerce, customer expectations have also increased, making it essential for businesses to provide top-notch customer service. To meet these expectations, businesses need a solution that can seamlessly integrate their eCommerce platform like Shopify with their customer service software such as Zendesk. This is where the new Shopify Premium for Zendesk by agnoStack comes into play.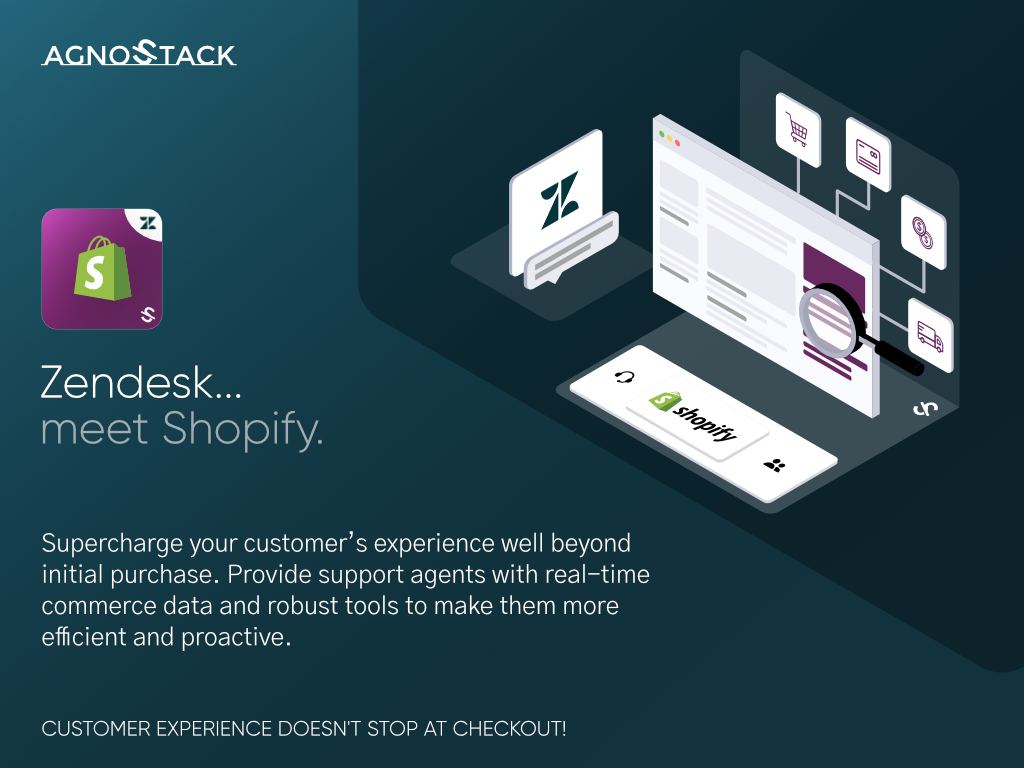 Zendesk the leading customer service solution designed for businesses of all sizes. It helps businesses to manage customer interactions across various channels and provide a personalized customer experience. agnoStack and Zendesk have partnered to provide Zendesk Retail's premium integration for Shopify. agnoStack also powers the industry leading Zendesk AI for Commerce solution - making AI so simple it feels like magic. The integration allows businesses large and small to easily manage all their customer interactions, orders, and shipments from a single platform.
agnoStack provides Zendesk's premier commerce application and is the key partner behind the Zendesk 'AI for Commerce' solution, they provide a complete end-to-end eCommerce customer service solution. They developed the new Shopify Premium for Zendesk solution to enhance Zendesk's eCommerce solution for Shopify retailers. With agnoStack, businesses can seamlessly integrate multiple stores for a unified view of the customer, access rich fully-integrated Advanced Macros, easily set Reminders and access Customer and Order Watchlists - and much more. agnoStack helps businesses increase agent efficiency while at the same time ensuring that their customers' post-purchase experiences are as amazing as their eCommerce websites and the incredible products they sell..
According to recent Qualtrics Research, "73% of consumers ( ) say Customer Experience is an important factor in their purchasing decisions" and noted: "happy customers are more than 5x as likely to repurchase, 6x as likely to forgive AND 8x as likely to try other products/services"!
Shopify Premium for Zendesk is THE premium version of the integration between Shopify and Zendesk!
The integration of Shopify and Zendesk via agnoStack's Shopify Premium for Zendesk solutions provides businesses with a powerful eCommerce support solution. Shopify offers a wide range of features that make it easy for businesses to create an online store and manage their operations. Zendesk provides a complete customer service solution that enhances the customer experience, while agnoStack provides the integration between the two platforms. The integration automates several customer service tasks, such as order tracking and returns management, which saves time and resources. This allows businesses to focus on growing their eCommerce operations while providing excellent customer service.
One of the main advantages of using agnoStack and Shopify Premium for Zendesk is that it allows businesses to customize their eCommerce operations and customer service to their specific needs. The integration offers several core features including:
agnoStack also connects all of the major surrounding platforms including Klaviyo, Mailchimp, YotPo, Microsoft Dynamics, Hubspot, Salesforce CRM as well as many other tools including ReCharge, PayWhirl, Smile.io, Stamped.io, Judge.me and more. See the full list of agnoStack integrations at: https://agnostack.com/integrations/all.
Rich customization options help Shopify retailers to optimize their operations and simultaneously improve their Zendesk eCommerce customer service experience.
In conclusion, eCommerce businesses need a solution that can seamlessly integrate their eCommerce platform with their customer service software. See the latest on the integration of agnoStack, Shopify, and Zendesk provides a complete eCommerce solution that enhances customer experience and streamlines customer service operations. By using the Shopify Premium for Zendesk integration, businesses can improve customer satisfaction, scale their operations, and grow their eCommerce operations. If you are looking to enhance your eCommerce operations and customer service, consider using agnoStack and Shopify Premium for Zendesk.
Empowering Shopify retailers
of all types & sizes to provide faster, more seamless and more intuitive customer support regardless of software stack.